Test libraries are developed by MT2. These are test scenarios to upload into emulator solutions. Most of the tests are coming from our active participation at the Broadband Forum and our relationship with customers.
MT2 is actively participating to create, write and make contributions to the Fiber Access Network group. These tests are translated to scripts libraries written in Javascript and work on MT2 solutions. Scripting is available on OLT emulators, ONU emulators but also on Analyzers solutions to automate diagnosis.
What is the BBF.247 test library?
The BBF.247 test library is an ONU conformance test-plan with a focus on ONU configuration (OMCI) and QoS (Quality of Service). It aims to ensure ONUs maturity and compliance to the market and operators requirements. This type of test library paves the way to integration and interoperability.
Created in 2013, the BBF.247 program has certified more than 100 different G-PON and more than 25 XGS-PON ONUs. In June 2020, The Broadband Forum announced the new BBF.247 issue 4 which has expanded its coverage to include XGS-PON ONUs and requirements from the TR-280.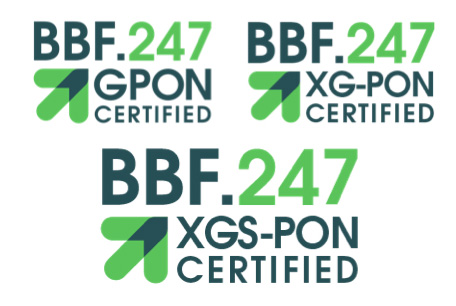 "It tests conformance to TR-156 using OMCI as defined in the ITU G.988, which are the most critical standards to interoperable implementations. The tests include verification of conformance regarding G-PON, XG-PON, and XGS-PON equipment functionality and the implementation of the OMCI."
MT2 solutions are used to perform the certification
"The new test plan will see ONUs undergo rigorous testing at Broadband Forum's official certification program test laboratory Laboratoire des Applications Numeriques (LAN Laboratory), using MT2's ONU testing solution. The work will confirm conformance to the latest PON ITU-T standards, providing network operators with assurance that they can deliver efficient networks and a high-quality customer experience." – Press release Broadband Forum – 8th of June 2020.
To sum up BBF.247 certification and MT2's role in this one in a few words: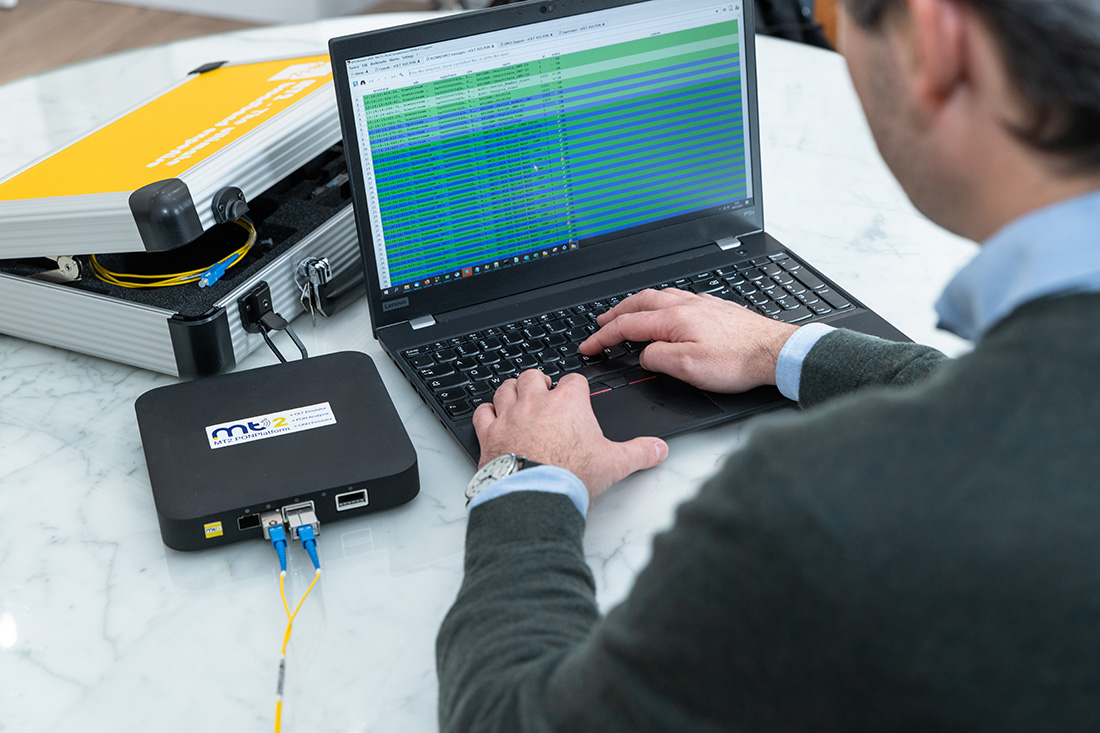 What is the TR-309 test library?
The TR-309 is a series of tests addressing the Physical Media Dependent (PMD) sub-layer and the Transmission Convergence (TC) sub-layer to be executed between one OLT and one or more ONUs. It is complementary to the TR-255 and BBF.247 test program, which focus on higher level interoperability and compliance such as OMCI and services.
MT2 TR-309 test scripts propose an implementation of the BBF TR-309 test plan using MT2 eOLT as the OLT. As such, it focuses on testing the ONUs and verifying that it can handle all the situations described by the document.
Thanks to the automation wizard, when you work with the OLT emulator solution, the tests can be run in isolation or consecutively. Moreover, the tests can be customized as will.
Key features:
● XG-PON and XGS-PON ONUs supported ;
● more than 40 different interoperability tests ;
● widely used in Interoperability Plugfest event between OLT and ONU manufacturers ;
● focus on ONU management, Security and Robustness, DBA, and Power management.
Did you know?
As interoperability is a key work at MT2, the company participates every year to interoperability test events along ONU and OLT manufacturers. Our test library is used during those events.
What is the TR-255 test library?
The TR-255 G-PON Interoperability test plan is a technical report document produced by the Broadband Forum. It is publicly available on this link.
This test library defines a series of tests that may be used to verify the interoperability of an OLT and ONU pairing according to the functional requirements of BBF TR-156 and ITU-T G.988.
To implement configuration under test, it is intended these test cases be used with:
Based on Broadband Forum document, MT2 has developed the full TR-255 tests library. It has been designed to prepare ONUs for TR-255 interoperability testing using the MT2 OLT emulator as a reference. It may also be extended to support specific target OLTs. The TR-255 can also be used with MT2 Analyzer to perform traffic verification between real OLT and real ONUs.
Here are the key features of the TR.255 test library:
What is the refurbishing test library?
The MT2 team developed a unique refurbishing ONU test library designed by service providers. In other words, one of the key features of this library is that it's coming from service providers' requirements.
The refurbishing test library elaborated by MT2 counts more than 20 experienced tests. Furthermore, it helps automation fault analysis, in order to make your work more efficient.
What are the key advantages of using MT2 test libraries?
There are several advantages when using MT2 test libraries. In fact, our test libraries are used by service providers and vendors all around the world. Our solution handles multiple test libraries in only one hardware and gives you comprehensive test results displayed in real time.
Using our test library, you can finally take advantage of the official BBF.247 test suite that is used by certification bodies. Moreover, MT2 provides the source code of the test libraries and it can be fully modified. You can have the tests that fit perfectly your needs.
MT2 is an active member of the Broadband Forum. Access to our experts, who have more than 10 years of experience in PON testing and interoperability.
An idea, a suggestion or a comment about our test solutions? Please submit your comment to us and we will ensure to reply to your query.