What is an ONU emulator - eONU?
An ONU emulator is a test equipment for the PON market. This device emulates simultaneously multiple ONUs according to the ITU PON standards. MT2 ONU emulator provides the perfect interface for OLT testing and development. It aims to test :
What are the key features of an ONU emulator - eONU?
An ONU emulator is a fully neutral and compliant tool. The key features of MT2 eONU are the followings: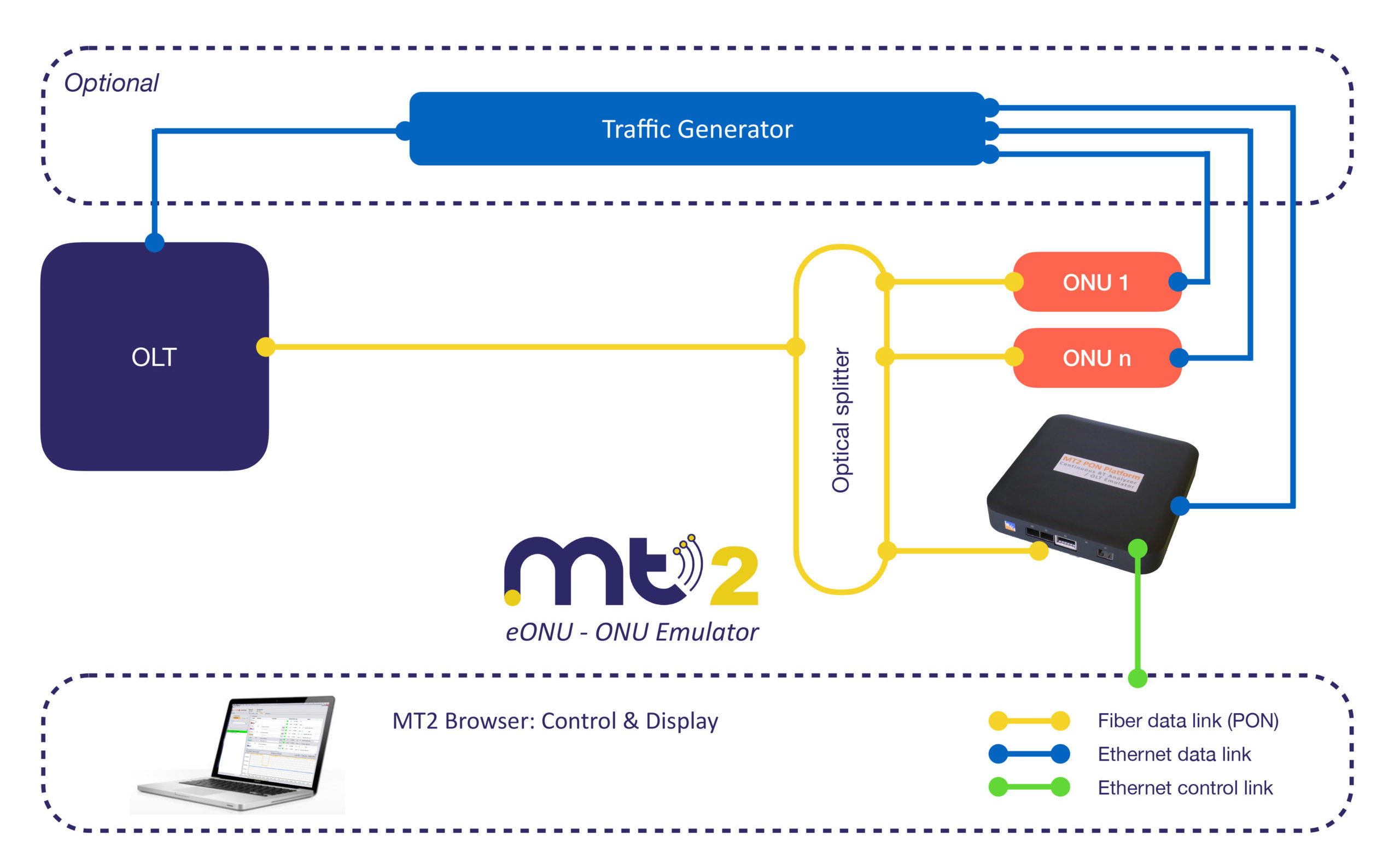 The ONU emulator also offers a layered analysis of the different protocols, displaying in real time and without time limitation:
With MT2 eONU, you can also access and read user traffic in real time. This functionality is available thanks to a native interface with Wireshark.
MT2 ONU emulator offers a "Capture and Replay" mechanism. This allows users to reproduce any ONUs behavior observed on the field in a controlled and reproducible environment.
What are the key advantages of MT2 ONU emulator?
Using MT2 ONU emulator (eONU) provides several advantages. Here are some key points of our emulator:
What are the applications of the MT2 ONU emulator - eONU?
MT2 ONU emulator can be used for the following applications:
● test the conformance of an OLT. It is the perfect tool to test equipments during the R&D phase or preparing for a network deployment;
● test the robustness of an OLT. As 256 XGS-PON ONUs can be emulated according to the IUT PON standards, the XGS-PON OLT can reach its limit and be tested on the edge;
● highlight Interoperability issues. In a multiple vendor scheme, service providers experience miscommunication between OLT and ONUs. MT2 eOLT will allow to reproduce interoperability issues in a controlled environment, quickening problems resolution and preventing regressions.
Our ONU emulator is tested and experienced with service providers and vendors.
The eONU – ONU emulator firmware is working in combination with the MT2 Browser and the MT2 PONPlatform. The solution is designed to work perfectly with its hardware and software.
On the PON tree, the eONU solution faces the OLT alone on a 1:1 test set up or can be plugged along third party ONUs.
The eONU – ONU emulator is part of a wide range of different firmware and belongs to MT2 firmware family.