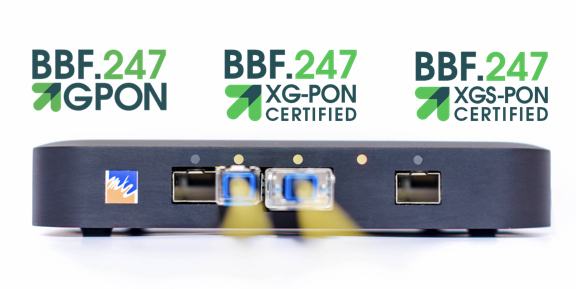 New BBF.247 certification
New BBF.247 certification for XGS-PON ONUs
Product overview
The BBF.247 test library is an ONU conformance test-plan with a focus on ONU configuration (OMCI) and QoS. It aims to ensure ONUs maturity and compliance to the market & operators requirements. It paves the way to integration and interoperability.
Broadband Forum wrote: « It tests conformance to TR-156 using OMCI as defined in the ITU G.988, which are the most critical standards to interoperable implementations. The tests include verification of conformance regarding G-PON, XG-PON, and XGS-PON equipment functionality and the implementation of the OMCI. »
Created in 2013, the BBF.247 program has certified more than 100 different G-PON ONUs.
→ To learn more about the testing and certification program
In June 2020, the Broadband Forum announces the new BBF.247 version which has expanded its test plan certification to includes XGS-PON ONUs. 8 XGS-PON ONUs have already been certified.
→ The press release about the latest BBF.247 issue 4
MT2 eOLT solutions and the BBF.247 test library
MT2 has designed and developped an OLT emulator able to run all the BBF.247 tests and many more. Chosen by the Broadband Forum and the LAN, the tool is used to perform the BBF.247 certification at LAN lab.
An active member of the Broadband Forum, MT2 participates to the construction of the test plan.
As interoperability is part of Company DNA, MT2 participates every year to interoperability test events along ONU and OLT manufacturers.
MT2 leads the industry in FTTH G-PON and XGS-PON network test, offering troubleshoot, monitoring deep analysis of products, and 'single-click' automated test suite solutions. MT2's analyzers and OLT emulators have the unique powerful features to allow the user to simply 'sofware-select', and switch between GPON, XG-PON, XGS-PON or NG-PON2, all within the same single system. MT2 ensures the complicated protocols and subscriber internet access traffic complies with every spec, automatically, using a powerful and intuitive user interface, high precision and innovative design. MT2 actively contributes to the Broadband Forum activity, as a test-tool vendor, and developed its FTTH automated test suites for functionality and performance testing, covering BBF.247, TR-309 and TR-255, critical to ensure system quality and full validation of any operator's FFTH network.