Conformance and Certification
MT2 OLT emulator is the reference on the market. It allows comprehensive ONU testing with libraries vetted by standardization bodies and customers such as the BBF.247 test suite.
With an ONU testbed, ONU conformance can be tested every step of that development, allowing for early fault detection and streamlining future deployments. Automation also allows intensive ONU testing with minimum resources.
Compliance with BBF.247 is becoming a requirement by many service providers. MT2 OLT emulator and its BBF.247 test library is the official test tool solution. There is no better way to prepare ONUs for the certification.
MT2 is an active member of the Broadband Forum and provides support and expertise for the latest developments.
What is the BBF.247 certification?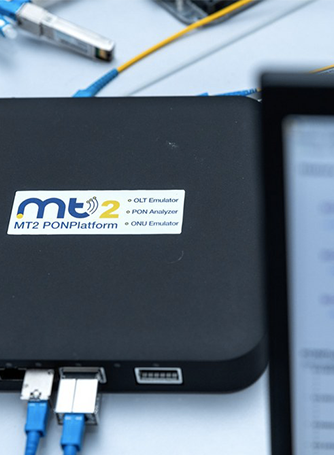 The BBF.247 certification is an ONU conformance test-plan. It focuses on ONU configuration (OMCI) and QoS. The aim of BBF.247 certification is to insure ONUs maturity and compliance to market and service providers requirements. One again, the compliance between your equipment and the rules is essential. MT2 is deeply involved in the writing of the test plans.
More than 100 G-PON and 25 XGS-PON ONUs have been certified by the BBF.247 program, which was created in 2011.
The tests made with our tools confirm conformance to the latest PON ITU standards. This conformance provides service providers with assurance that they can deliver efficient networks and a high-quality customer experience.